When Samsung outed the Galaxy S6 and S6 Edge last year, we all generally lavished it with praise. It was for a good reason — they were easily the nicest phones Samsung had crafted in years, even though one was clearly more popular than the other. This year isn't really about reinventing those formulas, but about refining them, and the results are the Galaxy S7 and S7 Edge.​ You'll be able to get your own starting on March 11, but read on to get our early impressions.
There's at least one big difference between the S7 and the S7 Edge, but let's start with all the things they have in common. They both ship with Android 6.0 Marshmallow, and both with have either an octa-core Qualcomm Snapdragon 820 (quad-core 2.15GHz + quad-core 1.6GHz processors) with 4GB of RAM or an Exynos chipset, depending on where you're buying one. Both are available only with 32GB of internal storage, but that's not exactly a problem, since both have microSD card slots. (Yep, they're back!) I briefly played with both, and if there was a performance difference, I missed it completely — the S7 and the S7 Edge are incredibly powerful devices that easily dealt with my short-term fiddling.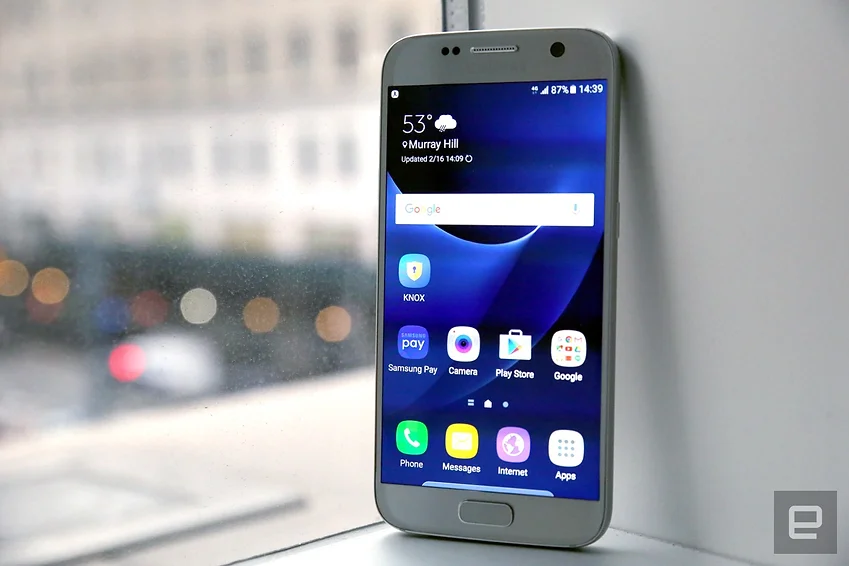 The cameras wedged into both of these devices are surprisingly nice, too, especially considering that Samsung went with 12-megapixel rear camera sensors instead of 16-megapixel affairs like last year. Here's the thing, though: They've opened up the aperture on those lenses to f/1.7 and bumped the pixel size on the sensors, all to improve low-light performance. Cameras generally hate the dark, but some quick testing showed that the S7 siblings outperformed the iPhone 6s Plus when things got really dim. Focusing is a tricky task for most smartphone cameras, too, but rather than toss in a laser autofocus module, as in the G4 and G5, Samsung has engineered a Dual Pixel sensor that — jargon aside — makes for incredibly fast autofocusing.
Oh, and thankfully, both have curved backs like the Galaxy Note 5, which absolutely does wonders for holding on to these things. In the case of the Edge, the curve wraps around the entire phone, making it feel more than a little like an iPhone (not a pleasant thing for Samsung to hear, but true). Speaking of these Galaxy bodies, Samsung was clearly listening to us gripe about how durable they are — that's probably why both devices are now IP68 water-resistant.
The Edge Advantage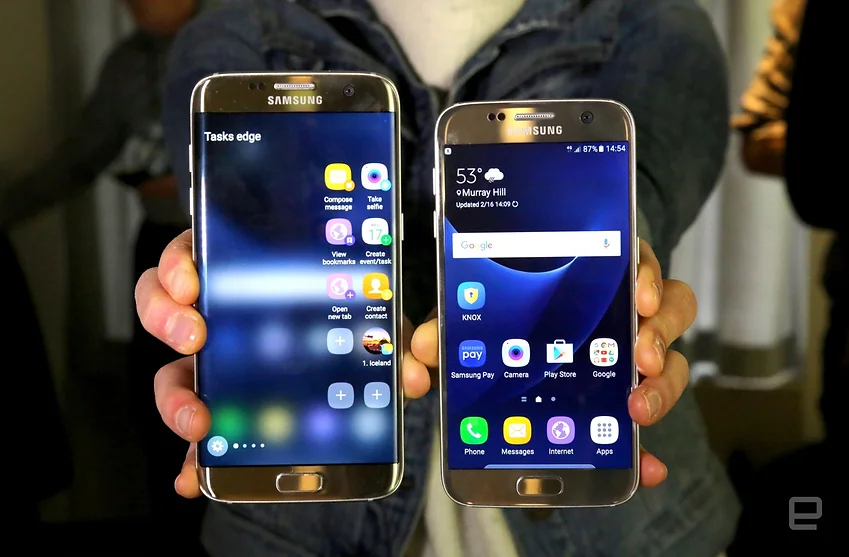 Don't let all that fool you — there are some crucial differences between the S7 and the Edge. Curiously, the Edge is a physically bigger device; it has a 5.5-inch curved Super AMOLED display, as compared with the normal, flat 5.1-inch panel on the S7. Both, by the way, have always-on modes so you can check the time and notification without firing the phones up for the umpteenth time. It's a strange move at first blush, but it's actually pretty savvy — the only thing the S6 Edge had over the S6 was its curved display, making it an obvious choice for people tired of traditional smartphones.
By giving the S7 Edge a bigger screen, Samsung's trying to set the Edge apart with more than just aesthetics and carve out a more specific niche for the regular S7. (Last year's excellent Galaxy S6 Edge+ likely taught Samsung that it didn't need a smaller Edge phone at all.) That bigger body also means the S7 Edge has a bigger battery, though both have gotten hefty upgrades: There's a 3600mAh battery in the Edge, while the S7 was boosted to 3,000mAh. The original S6 pair was purely all right on the power front, but this upgrade is more than welcome.
Of course, the Edge line plays home to some neat software features, and this year's version seems to have the most elegant yet. Remember that "drawer" of sorts that lives right on the edge of the curved display? Samsung has made it twice as big, so you can store shortcuts for ten people, apps or "tasks" — macros that let you perform specific actions like taking a selfie with a single button press. We're getting better third-party support for these edge spaces, too. Yahoo is back with a slew of panels for sports scores, stock prices and news, but Samsung plans to open up an SDK so any developer can try turning that space into something special.
Here's the thing about refinement: It's important — crucial, even — but not always that exciting. I've argued that was the case with LG's mostly lovely G4 last year, and that's very much what it feels like here. These two devices represent Samsung at the peak of its engineering and photographic prowess, but at the same time, they're safe, logical upgrades. I can't help but wonder if I've been tainted by the sheer insanity of LG's new G5 plan, an approach that's gutsy and offbeat enough to make people rethink their perceptions of the company. Samsung undoubtedly has a hit in both the S7 and the S7 Edge — the question is whether all the good they'll do will offset the company's recent rough patches.
Source: engadget